RE: VISIONS REVISE REMIX RETHINK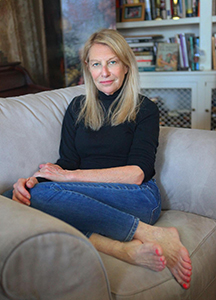 Like most Americans, I have consumed a vast amount of advertising, media, and pop culture imagery; as an artist and a collector, I have amassed a formidable collection and appropriate them for use in my collages.
The flotsam and jetsam from over the past 80 decades, the vintage advertising, articles, booklets, comics and illustrations that permeated the American twentieth-century mass media play in an endless loop through my mind, cluttering it like so many teetering stacks of vintage magazines that clutter my art studio. A visual archeologist of sorts, I dig deep into American mythology collaging iconic symbols, text, and images from the past 70 years.
I am a collage artist whose work has focused on examining social fictions whether politically, gender-based, or race by deconstructing the vast cultural clutter of mid-century America.
This was an important time in our country's social, historical and political history whose imprint informs us today. Trump and his minions want to restore the American Dream and the middle class back to that mid-century mythical place- a conflict-free whiter than white America. But of course the red white and blue America that once sparkled in Kodacolor did not sparkle for all.
We are an America whose identity has been forged by myths that no longer hold true but like a toxic overspill remain with us today.
As today's middle class is fading away like a Kodacolor print and the American Dream itself has gone into foreclosure, I found myself drawn to old periodicals, advertising and propaganda from mid-century America to see how the American Dream and the American Way was sold to us.
Collage becomes the perfect vehicle to deconstruct these fragmented messages.
The collages, all hand-cut paper, are composed of hundreds of images appropriated from vintage advertising, periodicals, newspapers, vintage school books, old illustrations, comic books, pulp fiction and all sorts of ephemera, bringing to the surface in a visual way the stories that Americans have been telling themselves over the past 70 years.
The importance of the images is they offer a mirror to the once upon a time American dream as presented in a media calculated to sell the American dream to the world and to ourselves. It is what these images tell us about the culture that produced them and the people that consume them.
These media images are the sharpest renderings not of reality but of domestic and national ideals reinforcing cultural, political, gender and racial stereotypes.
By dissociating the picture from their original intent I can give unexpected meaning not only to the images we grew up with but to the events that were then shaping the world and continue to shape our present.
We are now living in the future we looked forward to at the end of WWII and that world finds us anxious and cynical. In this age of diminishing expectations, the contrasts between those lowered expectations and the unduly heightened ones that predeeded it form some of the subtext of the work.
Defrosting the cold war world of my childhood these collages re-envision the Atomic Age of nuclear families and nuclear bombs, mad men and happy housewives that littered a pop culture landscape run rampant with mass media myths.
The cold war was a bone chilling time. While American soaring can do confidence offered us a sugar-frosted promise of a future filled with frost-free fun and abundance, that giddy optimism coexisted with the very real fear of nuclear anniliatin. I would catch a cold war chill that I could never quite shake.
---
BIO
N.Y. narrative collage artist Sally Edelstein defrosts the Cold War, piecing together visual fragments of Mid-Century American myths. Her work has focused on examining social fictions whether politically, gender-based, or race by deconstructing the vast cultural clutter of mid-century America through the lens of feminism and social justice.
Curating the cultural clutter of the Cold War, her creative, cultural commentaries have taken many forms. Whether as a fine artist, an illustrator, or a pop culture historian consulting for ABC News, her ironic sensibility and keen insights into popular culture put a unique stamp on her work.
Along with other 20th century artists, her work is included in "Conversations in American Literature, Language Rhetoric, Culture" an AP High School Literature Text Book published by Bedford/ St Martins.
Nationally exhibited, she is a multiple awards recipient from the Society of Three Dimensional Illustrators, The Art Directors Club of N.Y. and The Society of Illustrators. This New Yorker has served as a guest lecturer on post-war American culture at Fordham University, The New School for Social Research and the United States Naval Academy in Annapolis.
Her blog "Envisioning the American Dream" is a collection of social and historical commentaries that serve up mid century culture with a visual twist of today as assumptions are shaken and stirred.
An upcoming book "Defrosting the Cold War: Fallout From My Nuclear Family" is her memoir of how she learned to navigate the tangled doublespeak duck and cover cold war culture of her mid century childhood. Layering memory, nostalgia, humor, and history the story is a cultural snapshot of a time and place but like a posed Kodacolor print it was not as it appeared.
Trained at The College of Visual and Performing Arts, Syracuse University and The School of Visual Arts, NYC, she is a member of Women's Caucus for the Arts, and College Artists Association.