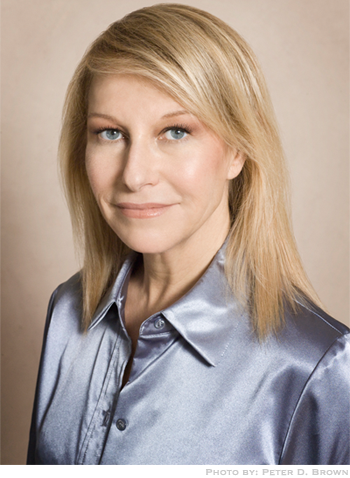 Like most Americans, I have consumed vast amounts of pop culture imagery, and fragments of these countless mass media images remain imprinted in each of us. These media images are the sharpest illustrations not of reality, but of domestic and national ideals, reinforcing cultural, gender and racial stereotypes.
Using collage as a means of examining social fictions, the pieces are composed of hundreds of banal images appropriated from vintage ads, periodicals, children's school books, comic books, pulp fiction and all sorts of ephemera, dissociating the images from their original use to better re-evaluate its' original message.
Award winning Collage Artist/Author Sally Edelstein Offers Up Revisions of America's Political and Pop Past
Narrative collage artist/author Sally Edelstein defrosts the Cold War, piecing together visual fragments of Mid-Century American myths, wryly re-envisioning paradoxical political, social and gender stereotypes, while serving up a remix of popular culture.
Cooly curating the cultural clutter of the Cold War, her creative, cultural commentaries have taken many forms. Whether as a fine artist, an illustrator, or a pop culture historian guest lecturing at the New School For Social Research, NYC and consulting for ABC News, her ironic sensibility and keen insights into popular culture put a unique stamp on her work. Trained at The College of Visual and Performing Arts, Syracuse University and The School of Visual Arts, NYC, she is a member of Women's Caucus for the Arts, and College Artists Association.
As the author/illustrator of "This Year's Girl ", published by Doubleday, she takes a light-hearted look back at the fashion, music, politics and products from the fallout 1960's - the Me-Decade of the 1970's through the consumer conscious 1980's as told through the eyes of a quintissential baby boomer girl. Cleverly using paper dolls and their cut out accessories as a metaphor for the way we adopt the newest fads, fashions and implicit mentalities with the ease of folding over a paper tab, the book is lavishly illustrated with hundreds of familiar artifacts, and is a treasure trove of visual tropes.

| | |
| --- | --- |
| | |
| | |
---
Upcoming Art Exhibits
March 2017
Embedded Messages: Debating the Dream, Truth Justice and the American Way
The Art Center
1957 Sheridan Road
Highland park, Ill. 60035
847-432-1888
March3- April 2, 2017
Opening March 3, 2017 / 6:30-8:30pm
http://m.huffpost.com/us/entry/us_58a7081de4b0b0e1e0e20997
Feminine/Feminist Exhibit
Gallery66NY
66 Main Street
Cold Spring Harbor, NY
845-809-5838
Opening Reception : March 3, 2017 6-9pm
Exhibition: March 3- April 2, 2017
"Nasty"
Arc Gallery
1246 Folsom Street
San Francisco, CA 94103
Exhibition: March 11- April 15,2017
Opening Reception: March 11th 7-9pm
SELECTED EXHIBITIONS

NEW CENTURY ARTISTS GALLERY, NY, NY Feb. 2011 "Hidden Cities" 2011 National Juried Exhibition, Juror: Lisa Phillips, New Museum of Contemorary Art, NYC
AIR GALLERY, DUMBO, N.Y. December 2, 2010 -January 2, 2011 "At Her Age" Curated by Martha Wilson
ARLINGTON ART MUSEUM, Arlington, Texas February 2008 Juror: Dr. Maura Reilly Curator of the Elizabeth A. Sackler Center for Feminist Art at The Brooklyn Museum
AIR GALLERY, Chelsea, New York, N.Y March 8- April 7, 2007 "Seventh Annual Biennial Exhibition" Juror: Connie Butler MOMA
COLUMBIA/BARNARD UNIVERSITY, KRAFT CENTER FOR JEWISH LIFE, New York, N.Y. Feb-March 20, 2007 Womens Caucus for Art Presents "Words Within"
BOSTON UNIVERSITY RUBIN FRANKEL GALLERY April 2007 "Words Within" Boston, Mass.
VISUAL ARTS CENTER OF NEW JERSEY, Summit, N.J. Feb 9-April 2007 "The Twenty First Annual International Juried Show" Juror: Laura Hoptman, Senior Curator, The New Museum of Contemporary Art, N.Y. Honorable Mention
SETON HALL UNIVERSITY, WALSH GALLERY, South Orange, N.J. April 16, - May 2007 "Detritus"
CERES GALLERY, Chelsea, New York, N.Y. May 23- June 2006 "Seventh Annual Juried Exhibiti " Juror: Cora Rosevear MOMA
AIR GALLERY, Chelsea, New York, N.Y. March 9- April 2006 "Generation 2006" The exhibition included a fundraiser in collaboration with Womens eNews and a silent auction of the work.
VISUAL ARTS CENTER OF NEW JERSEY, Summit, N.J. 2006
ART DIRECTORS CLUB, New York, N.Y. December 2000 "Twelfth Annual Three Dimensional Illustrators Awards Show" 3 Bronze Awards
UNIVERSITY OF ILLINOIS AT CHICAGO SCHOOL OF ART AND DESIGN, NEW WORKS GALLERY, Chicago, Ill. March 1999
ART DIRECTORS CLUB, New York, N.Y December 1998 "Tenth Annual Three Dimensional Illustrator's Awards Show" 2 Bronze, 2 Silver Awards
UNIVERSITY ART GALLERY, STALLER CENTER FOR THE ARTS, STONY BROOK UNIVERSITY, Stony Brook, N.Y. March 5- April 1997 "Text and Identity: Twelve Women/ Twelve Artists"
MILLS POND HOUSE, Smithtown Council of the Arts, St. James, N.Y. March 1997 "Women, Words and Images"
ART DIRECTORS CLUB, New York, N.Y December 1996 "Eighth Annual Three Dimensional Illustrator's Awards Show" 1 Gold Award, 3 Bronze Awards
MILLS POND HOUSE, Smithtown Council of the Arts, St. James, N.Y May 4 -June 1996 "Art and the Battlefield"
THE VISUAL CLUB, New York, N.Y. January 12- February 21, 1996 "Illustrator's Awards Show" Bronze Award Winner
ART DIRECTORS CLUB, New York, N.Y December 1995 "Three Dimensional Art Directors and Illustrator's Awards Show" 3 Bronze Awards
HECKSCHER MUSEUM, Huntington, N.Y. May 12- June 11 1995 "Fortieth Annual Long Island Arts Exhibit" NYNEX Award Winner